Ce mercredi, 28.3., 21H00
Ecurie, îlot 13, Genève

3 femmes - 3 laptops - 3 pratiques sonores
3 manières d'explorer le lien entre son et écriture ou environnement.

Nathalie Rebholz, artiste, née en 1978 à Athènes. Vit et travaille à Genève. Elle mélange des influences et techniques issues des domaines du psychodélisme, de la poésie sonore, de la méditation, de l'imagination et des hallucinations, émanant des paysages sonores, de l'expérimentation, des détournements. Nathalie Rebholz a obtenu son bachelor à l'ECAL et son master en arts visuels à la HEAD. Sa pratique du Yoga et de la méditation influence son travail au même titre que ses expériences shamaniques.
Elle a réalisé des solos à la Placette, Lausanne (2017), à Analix, Geneve (2010 + 2005), à la Galerie J, Geneve (2008), à Abstract, Lausanne (2004) et participé à plusieurs événements collectifs : Livinyourhead (2015), New Jerseyy, (2012), Nuke, Paris (2011 et 2006), Rodeo Gallery, Istambul (2010), 1m3, Lausanne (2009), Marres, Mastricht (2007), Fuori 06, Pescara (2006), Maison Européenne de la Photographie (2004) et le  Centre Culturel Suisse, Paris (2003).
Nathalie Rebholz, born in 1978 in Athens is an artist living and working in Geneva. A Contemporary Creole, she melts influences and techniques from the fields of psychedelism, sound poetry, domestic and soft skills, meditation, imagination, hallucination of theory, visions, soundscape, estrangement, experimentations, wait, agency, consciousness, sponged lyrics as well as baroque. 

Besides holding a bachelor in communication design, specialization in photography (ECAL), and an master in visual arts (HEAD), she has learned from her yoga practice, meditation and shamanic trips, motherhood, as well as from her experience as a curator and gallery owner. 
https://www.guide-contemporain.ch/artistes/nathalie-rebholz/
___________________________________________________________________


Swantje Lichtenstein, artiste sonore, écrivaine, chercheure, traductrice. Elle explore la performance, l'art sonore électro-acoustique et l'écritureconceptuelle dans une perspective transmédiale et féministe. En tant que curatrice et organisatrice, elle gère le projet plain room à Düsseldorf (D), ainsi que le festival cOsmOsmOse pour la poésie en performance et de l'écriture sonore. Elle a participé à de nombreux festivals, tels que Sound-Text-Festival, NYC; Poetic Voices Africa-Festival, Cologne; Sound Eye-Festival, Cork; International Poetry Festival, Bucarest; Poesie Festival, Istanbul; Salon de Poesie, Gundalajara/Mexico City, European Writers Festival, Yerevan; Studio 672 ,Köln, Issue Project Room/Goethe Institute New York,Hallraum, Düsseldorf etc.

Depuis 2007, Swantje Lichtenstein est également professeure de la pratique ésthétique à la HSD (Hochschule Düsseldorf) et intervient à l'Institut pour l'art langagière appliquée à Vienne. Elle a plusieurs publications et traductions à son effectif, entre autres du livre Uncreative writing de Kenneth Goldsmith.
SWANTJE LICHTENSTEIN (Sound) Writer/Artist, Professor, Translator, Editor, Producer. Her main interest are liminal agenicies between performance, text, (electro-acustic) sound and theory. Her base is language and text based sound art, electro-acustic and conceptual writing and recordings from a transmedial and feminist perspective. She performed worldwide in different festivals and locations: Sound-Text-Festival, Issue Project Room/Goethe Institute New York, non event/Goethe Institute, Boston, Poetic Voices Africa-Festival, Cologne., Sound Eye-Festival, Cork, International Poetry Festival, Bucarest, Istanbul, Turkey, Gundalajara/Mexico City, Salon de Poesie/Goethe Institute, European Writers Festival, Yerevan etc. Artist Residencies in Nairs/Switzerland, Istanbul/Turkey, Svendborg/Danmark, Johannesburg/South Africa etc. Publications: Von Form von Vorn. Literarisches Hören, performatives Schreiben und Gertrude Stein, Heidelberg 2017, Jono Podmore/Swantje Lichtenstein: Lewes/ Miss Slipper, PSY004, Duesseldorf/London 2016 (Record), Is the artist necessary for making art today, Köln 2016, Transkript, Köln 2016, Ausfindig machen. Sprachkunst und textuelle Verfahren in den Kuensten, Cologne 2015, Kommentararten, Berlin 2015, Geschlecht. Berlin 2013, Covertext: Context, Köln 2013, Horae, Berlin 2011 Entlang der lebendigen Linie, Wien 2010 etc. Translator of V. Place/R. Fitterman: Notes on Conceptual Poetry (Covertext, Berlin 2013) and K. Goldsmith: Uncreative Writing (Unkreatives Schreiben, Berlin 2017) etc. Professor for Text and Aesthetic Practices at the Universtity of Applied Sciences Duesseldorf, teaches language arts at the University of Applied Arts in Vienna and liminal agencies at the Institut for Music and Media/Robert Schuman-Conservatory, KHM (Academy of Media Arts), University of Delhi, Unversity of Cologne etc. Organizer of LCD-Duesseldorf (2010-2014), cOsmOsmOse-Festival for Performance Poetry and Verbophonie (since 2013, Cologne, Duesseldorf,

www.swantjelichtenstein.de, www.covertext.org, https://soundcloud.com/swantje-lichtenstein, www.cosmosmose.de https://lichtensteinpodmore.bandcamp.com/releases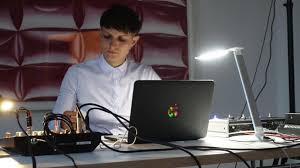 _________________________________________________________________
Heike Fiedler, a grandi en Allemagne. Elle vit et travaille à Genève, où elle a co-programmé durant une quinzaine d'années des événements autour de la poésie sonore. Depuis 2000, elle se produit dans des festivals de poésie et de musique à travers le monde. Au carrefour des arts, son travail se situe entre les langues, entre improvisation et composition. Elle réalise ses lectures à voix nue et en manipulant des technologies modernes (modul8, ableton live, kaosspad, jamman...). Ses mises-en-performance ont été présenté à La Bâtie - Festival de Genève, au Festival Poésie en arrosoir, dans le cadre du Printemps de la poésie. Elle donne régulièrement des masterclasses et ateliers. Son travail écrit est publié dans de nombreuses anthologies et revues littéraires, son travail sonore dans plusieurs revues on-line. Elle réalise des performances et installations, dont la dernière a été exposé au Kunsthaus de Zofingen (2018). Elle a publié 3 livres.
Heike Fiedler, Germany/Switzerland. Author, multilingual poet and performer. Fiedler's poetry is situated between composition and improvisation. She performs her texts with her body and voice, with laptop, paper, looper, realtime projection tools (ableton live, modul8…). Since 2000, she is participating in international literature and poetry festivals, readings, music festivals, realises interventions in public space and installations. Her last was recently shown at the Kunsthalle Zofingen (CH). She conceptualises and leads workshops in field of (sound) poetry, improvisation and performance writing.

Participated in the research projekt « Authors acting on stage: self-conception and mise-en-scène » (HKB, SLI). Fiedler collaborates with musicians in field of improvisation and electroacoustic, she realizes the mise-en-scène of her pluridisciplinary projects (La Bâtie-Festival de Genève, festival Poésie en arrosoir). Many publications in magazines, anthologies, on CD's. Books: langues de meehr (2010), sie will mehr (2013), mondes d'enfa( )ce
(2015). Several residencies (Fondation Ledig-Rowohlt, L'Arc Romainmôtier, Pro Helvetia-New Delhi), lots of grants and subventions for her projects linked to writing and spatialization of text. She was co-founder of the former group Roaratorio, a platform for the international poetry performing scene. More informations: (festivals, presse, photos)
http://realtimepoem.com
http://heikefiedler.ch
spoken script
Zoé
Participation à l'anthologie filmée dans le cadre du Printemps de la poésie en Suisse romande :
a) poésie en Suisse romande - b) Le Temps, Genève